Zheng Ba Shi Ji

Zheng Ba Shi Ji's title screen.
Publisher
Waixing
Developer
Waixing
Cart ID(s)
ESC-1005 (Original), T3, ET-012, ES-1042
Console
Famicom
Date
1996
Sound engine
Waixing
Alternate names/hacks
Ou Lu Zhi Zhan (欧陆之战)
Zheng Ba Shi Ji (争霸世纪) is a bootleg Famicom port of Europe Sensen (ヨーロッパ戦線), also known as Operation Europe: Path to Victory overseas, developed and published by Waixing in 1996.
Overview
Edit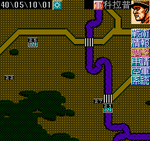 The port seems to be rather accurate to the original although certain elements were removed. The generals' stats in the original version are determined through a roulette system but here, they're all fixed. Weapons and tank names were also dropped from this port as well.
All six scenarios from the original remain although the campaign mode has been dropped:
The French Blitz (法國閃電戰)
Desert Storm (沙漠風暴)
Battle of Kursk (庫爾斯克戰役)
Invasion of Normandy (諾曼底登陸戰)
Battle of the Bulge (阿登攻防戰)
Battle of Berlin (柏林大決戰)
The game itself seems to be based on an unofficial, pirated Chinese translation of Operation Europe: Path to Victory known as 王者雄師.[1] [2] rather than Waixing translating it themselves. The generals' and places' names seems to be derived from this albeit changed to be more accurate.
The game itself has a total of four endings, two "bad" endings and two "good" endings.
Despite being developed in China, The text in this game is a mix of Simplified and Traditional Chinese, a common trait in Waixing's earlier games.
The font used for this game is from ETen Chinese System (倚天中文系統). This font is also used in many old Taiwanese video games (notably DOS games) and other early Waixing games.
This game got a title hack known as Ou Lu Zhi Zhan (欧陆之战).
Not limited to this game, some of Waixing's earliest games release in Taiwan and Korea.
References
Edit