Xing Ji Wu Shi - Super Fighter
Talk

0
408pages on
this wiki
Xing Ji Wu Shi - Super Fighter
is a fighting game created by
Waixing
which, interestingly, makes use of
Cony
's
own fighting engine
.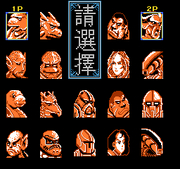 The game consists of a roster of 18 characters, half of which are simply renames and tweaks of other characters. The game uses Cony's Street Fighter 2 games as a template and because of this each of the characters are spriteswaps of the characters from that very game, therefore performing excatly the same.
Like Cony's games, special moves are pulled off by pressing the A and B button plus a direction. A + B + Down usually results in a different move. Also like Cony's games, the characters are generally cheap, using moves that are both unblockable and undodgeable.
The Dinosaur people, Gardine and Yunta, are based on Ryu/Ken.
The Goblins, Dam and Kin, are based on Vega (Balrog in Japan).
The Dragons, Eadmund and Morgege, are based on Dhalsim.
The Storm-Troopers, Hisse and Fellau, are based on Balrog (M. Bison in Japan).
The gun wielding troops, Hont and Clite, are based on Guile.
The Ogres, Atsar and Parsim, are based on E. Honda.
The sword Women, Marilin and Rose, are based on Chun-Li.
The Tall troops, Binlitt and Peartin, are based on Zangief.
The Xenomorphs, Slinla and Batow, are based on Blanka.
The Dragon people's stages use Zangief's theme.
The women's stages uses a sped up version of Cony's Street Fighter 2 character select theme.
Categories: