Sextris is a Columns Clone created by Twin Eagles Group in June 1997 for the Super Famicom.
Overview
Edit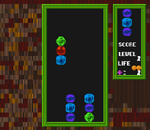 Once you boot up the game, a sample of a woman screaming plays. In the game you have different coloured gems. After placing 3 down, the game finishes saying CLEAR then puts up a pornographic image. Sextris has 5 pornorgraphic pictures. This game is impossible to lose, as every time you place 3 down, it changes the stage. Once on Level 19, The game stops and goes into (what looks like a) hex editor named "DBBRK Version 1.0".
You can find this game on Twin Eagles Group Websitealong with other Famicom games.
The games description is "AAHH... AHHH... LET'S MOVE PAD UP'N DOWN"
When the game starts, There is a SEXGA(MTV) logo along with [C] 1997 MIRFUS SOFT
The game uses music stolen from Super Turrican.
Ad blocker interference detected!
Wikia is a free-to-use site that makes money from advertising. We have a modified experience for viewers using ad blockers

Wikia is not accessible if you've made further modifications. Remove the custom ad blocker rule(s) and the page will load as expected.