Karateco was an arcade company that produced and distributed various arcade games, both licensed and unlicensed, in France and other countries. Not much is known about any of their machines, and only three of their games are emulated.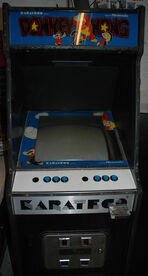 Pac Pac (hack of Pac-Man, unlicensed)
Donkey Kong (licensed)
Donkey Kong 2 (claims to be licensed, but no official Donkey Kong 2 arcade game exists; it is thought to be a hack of Donkey Kong)
Asteroid (unlicensed)
Hopper (hack of Frogger, unlicensed)
Dig Dug (licensed)
Kamikaze (hack of Galaxian, unlicensed)
Rally Z (hack of Rally X, unlicensed)
Rampage (licensed)
Crush Roller (unlicensed)
Scramble (unlicensed)
Time Pilot (licensed)
Amidar (unlicensed)
Jungler (hack of Nibbler, unlicensed)
Moon Patrol (unlicensed)
Moon Cresta (unlicensed)
Frisky Tom (licensed)
Spider (licensed)
Borderline (unlicensed)
Battle of Atlantis (unlicensed)
Naughty Boy (unlicensed)
Van-Van Car (original game; distributed in the US inside the ICade 60-in-1)
Uniwars (original game; distributed in the US inside the Ghostmuncher Uniwars 2-in-1)
May Day (original game)
The Double (original game)
Gin Rummy (original game)
Billiard Americain (original game)
Super Double (original game)
DCA (?)
Taskete (?)
Ad blocker interference detected!
Wikia is a free-to-use site that makes money from advertising. We have a modified experience for viewers using ad blockers

Wikia is not accessible if you've made further modifications. Remove the custom ad blocker rule(s) and the page will load as expected.