KT-8498: 3 in 1 (Chip And Dale Rescue Rangers 1, 2 and 3)
KT-96013: 6 in 1 (PokeMaero, Mortal Combat 30p, SpartanX, Wrestle, World Pro Soccer, Batman)
KT-8418: 4 in 1 (Spider-Man, Ninja Cat, Adventure Island 3, WWE 3)
KT-8232: 4 in 1 (Heroe Fighter, Hero Story, Hero Goal, Dodge Ball)
KT-8482: 4 in 1 (Angry Bird I-III, Ninja Turtles 1)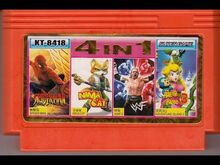 Ad blocker interference detected!
Wikia is a free-to-use site that makes money from advertising. We have a modified experience for viewers using ad blockers

Wikia is not accessible if you've made further modifications. Remove the custom ad blocker rule(s) and the page will load as expected.