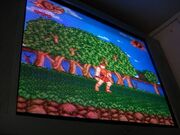 Hercules
was a game based on the PC And PlayStation versions which was released for the Sega Genesis And The Super Nintendo
.
Information
Edit
There is a Hercules Bootleg game made for the SNES likely in 1997. The Game is a port of Hercules 2 for the Sega Genesis but has some glitches and choppy animations. The Game Used Street Fighter sound effects for Hercules's actions in the game. This SNES Version is not as known as Hercules 2 and is currently undumped.
Differences
Edit
This Game is obviously not called Hercules 2 due to no other bootleg Hercules Game Made for the SNES.
The Game lacks a few levels of Hercules 2 for unknown reasons.
  The Music has a different rendition than the Sega Genesis Version.
   This Game Was Most likely released before Hercules 2 for the Sega Genesis.
Ad blocker interference detected!
Wikia is a free-to-use site that makes money from advertising. We have a modified experience for viewers using ad blockers

Wikia is not accessible if you've made further modifications. Remove the custom ad blocker rule(s) and the page will load as expected.