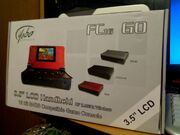 The
FC 16 Go
, an handheld console distributed in the US by
Yobo Gameware Co.
, is a portable 16-bit Super Nintendo
clone
. It uses a 3.5" TFT-LCD Screen and features a Nintendo DS style design. It has a D-pad not dissimilar from the original SNES, however Version 2 and 2.1 fix this. The FC 16 Go comes with 2 wireless controllers, earphones, AV Cables, AC Adapter and a Lithium-ion battery. Normally the FC 16 Go cannot play PAL SNES games or Japanese Super Famicom games, but if the rear of the case is disassembled the clips that stop a Japanese cartridges from entering can be cut off and it will play all games. The original FC 16 Go only outputs as Mono, although the version 2 and 2.1 output 2 channels.
Ad blocker interference detected!
Wikia is a free-to-use site that makes money from advertising. We have a modified experience for viewers using ad blockers

Wikia is not accessible if you've made further modifications. Remove the custom ad blocker rule(s) and the page will load as expected.