Color GB 22-in-1

22-in-1 cartridge
Publisher
"Game USA Color"
Cart ID(s)
UC-22W01
Developer
Various
Console
Game Boy Color
Date
After 1998
Engine
Various
Sound engine
Various
Alternate names/hacks
"Color GB 32 in 1"
The Color GB 22-in-1 (UC-22W01) is a multicart for the Game Boy Color on a Game Boy cart with a CR2032 battery. Despite the title, there's only 1 Game Boy Color title, and the other 21 are monochrome with 3 of them having color.
List of games
Edit
Pokémon Crystal (Vietnamese translation)
Pokémon Green (Bootleg Engrish translation)
Super Mario World 7 (Adventure Island 2 hack) 

 (

Listed

 as Super Mario Land in the menu, despite there already being a Super Mario Land)
Super Mario 4 (Crayon Shin Chan 4 hack)
Super Mario Land
Mario & Yoshi / Yoshi (

Listed

 as Mario Yoshi in the menu)
Dr. Mario
Poke Mission 97 (Public Domain game)
Battle City
Asteroids
Bomb Jack
Daedalian Opus (Listed as Deadalian Opus in the menu)
Tesserae (

Listed

 as Tessereaa in the menu)
Cool Ball
Flipull
Spot
Shanghai
Heiankyo Alien
Centipede (

Listed

 as Cen Tip Ede in the menu)
Othello
Q Billion
Pipe Dream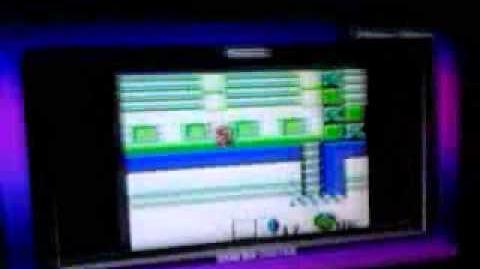 Pokémon Green does have graphic and sound glitches when the battery has ran out. This fact can be seen in the video.
A very similar version
Edit
Video: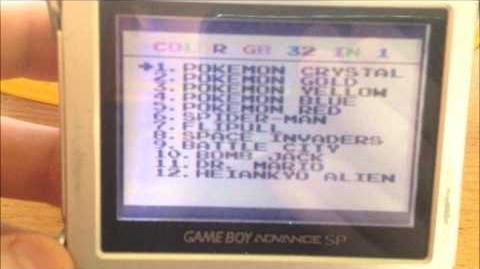 Ad blocker interference detected!
Wikia is a free-to-use site that makes money from advertising. We have a modified experience for viewers using ad blockers

Wikia is not accessible if you've made further modifications. Remove the custom ad blocker rule(s) and the page will load as expected.