101 Dalmatians
Hack of
Beethoven's 2nd
Developer
Twin Eagles Group
Original developer
Hi-Tech Expressions
Console
SNES
Date
February 1998
Alternate names/hacks
101 Dalmatas
101 Dalmatians (AKA 101 Dalmatas) is a pirate SNES hack of Beethoven's 2nd, made by Twin Eagles Group. This hack was released in February 1998.
Overview
Edit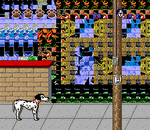 Beethoven's sprites have been replaced by what seems to be Pongo, and the various puppies have been edited to resemble young Dalmatians. The bootleg is notable for having glitched text and background graphics.
Ad blocker interference detected!
Wikia is a free-to-use site that makes money from advertising. We have a modified experience for viewers using ad blockers

Wikia is not accessible if you've made further modifications. Remove the custom ad blocker rule(s) and the page will load as expected.